I went on a little cool hunt this morning and found this…
A bedroom to die for. I love everything about it. If this was my bedroom I might never leave my bed. Okay your right I can't sit still for more than 5 minutes but I'm just saying…
As the years pass I become more and more determined to own a cottage kitsch house. I love, love old architecture , mediterranean, country cottage,english cottage, french country, etc. We built a new house a little over six years ago and it is quite modern. The last few years I've been craving a little cottage with character. I don't want to leave the beautiful setting I'm in, woods, meadow, pond, but the heart wants what the heart wants. That doesn't mean it's going to get, so for now I dream.
The pathway to this colorful cottage  sold me and the red door, well, let's just say this would definately be an impulse buy. Good thing we're only cyber shopping.
No new house for me just a cottage garden.
Join me in my garden of cottage dreams…
xo-jj
May 25, 2010 Posted by javajune | confessions, family woes, Hello Miss Manners, photography, Uncategorized | charming, cool hunt, cottage chic, cottage style, country decor, decorating, flowers, home decor, photography | 3 Comments
Just wanted to share the spring vignettes I created, yesterday,  my day off.  Gosh I needed that, feeling recharged and refreshed.
 Hydrangea, green and pink, my fave
Lulu, the bust Mr. Java gave me for Christmas, is now dressed in her summer best with a shell necklace and crown that I created just for her.
 A closer look 
More collections, creations and books
 More of my shell collection
 Green plants in turquoise and terracotta pots with the perfect patina, bohemian scarf and more shells
Rustic, nature, and angelic treasures-love
Indoor pics with flash, not my fave but you get the idea. Just wanted to share my day of blissful decorating with you.
xo-jj
April 28, 2010 Posted by javajune | lovers, me, photography | beachy, decorating, eclectic, love, shells, spring, spring decor | 4 Comments
I'm loving all the bird decor for spring and I thought I'd share a few with you.
I love this sweet little bird cage by Tamar at Nest Decorating. It's so colorful and Anthropologie-like.
This little painting was done by Angie over at paintingchic. I won the OWOH drawing for this fellow and he know stes on a shrlf in my entry-love him!
What a sweet necklace by floridity an etsy seller.
This is how we do it at Pottery Barn. The store is abloom with spring. I've been able to nurture my spring fever while working.
Wore this little piece of spring, yesterday. Love….. 
I noticed just yesterday the birds are beginning to chatter again, feels like spring!
xo-jj
March 3, 2010 Posted by javajune | confessions, me | birds, decorating, nest, owl, owoh, pottery barn, spring | 3 Comments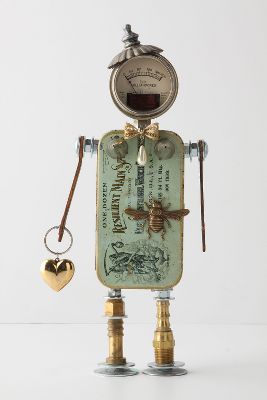 Are you looking for that perfect Christmas gift for the hard to please woman on your list? Me too. I found this little goodie on Anthropologie.com a few weeks ago and feel in love until I saw the price it was somewhere in the neighborhood of $300.00 Whoa! well Fobot Betty is no longer available but that got me to thinking how easy it would be to make a little betty out of a few odd and ends I have around the house. So one of these days when I have some spare time, ha ha, I may just whip something up. I mentioned in my last post that I have started shopping for the princess and Dear Renee asked what kind of gifts I had in mind. Well, this year it is all about strawberry shortcake, the movie the dolls, and yes the doll house. She's crazy for little Strawberry Shortcake- loves everything about her.
She is adorable and smells even better than she looks and if that's what the princess wants thats what  she gets. Most of my gift buying will be done at Pottery Barn this year, I work there and get a 40% discount, plus the merchandise is wonderful.
The sparkle collection and the peace tree accessories are my favorites. I love to mix rustic and elegant together. Just this morning I trudged out to the words and cut off a big knarly branch to display in one of my vases. It's the perfect rugged touch. It looked better when I first brought it in because it was covered in glistening frost, hmm, maybe I'll spray it with a little frosty glitter and seal it.
Now if I can figure out a way to not spend my whole pay check I'll be doing much better.
In other news the cable guy is coming over again tomorrow to try to figure out my intermittent service problem. That's one of the reasons for my inconsistent posting. Yeah I'm sticking with that excuse!
I know, I know it's not even Thanksgiving yet but I'm getting in the Christmas spirit already, even though the weather has been frosty in the morning but a gorgeous 50 degrees and sunny by mid afternoon- only in Michigan.
xo-jj
November 12, 2009 Posted by javajune | me, rants | anthropologie, christmas, decorating, michigan, pottery barn, shopping | 2 Comments
The new vignette in my office space
A lot of dreaming and a little anticipation. I love to create dreamy little spaces filled with hope and magic. Yes, hope and magic are always a part of my day dreams.
#1
 The magic of little gifts wrapped in mystic atmosphere are my favorite kind of surprises. The woods are filled with plants and creatures and sometimes the unexpected.
#2
Sometimes beauty is simple and untouched. Beauty comes in the most natural forms but can be enhanced with a little imagination. A little imagination can lead you right where you want to go.
#3
Right to the  kind of place where dreams fly and wishes float.   Do you have a special place like that? A place where you feel inspired, hopeful and just a little dreamy. We all deserve a  special place to retreat.
#4
I love making artsy spaces, creative niches and little vignettes inside and outside the house. It's nice to find the unexpected in everyday places. As I'm sure you've noticed most of what inspires me isn't the ordinary picture of a flower or sunset. I'm inspired by that little added twist or extra kick. What inspires you and makes you heart beat a little faster?
I'm a curious girl and I really want to know what you think. So please participate in my poll and vote below. 
Inspire me…
xo-jj
July 14, 2009 Posted by javajune | me, secrets, Uncategorized | art, baby, decorating, favorite things, home decor, inspiration, love, outdoor decor, photography, poll daddy, woodsy | 13 Comments
I love those days when I feel inspired even if it is only for a moment or two. A little inspiration here and there is what keeps my spark alive. It keeps me going and allows me to see the world  a little differently. There are so many wonderful places in blog land that are bursting with creativity and are a great resource for inspiration. What inspires you?
I thought about the things that inspire me and what might inspire someone to buy my photography. Photography is a funny thing. It's so subjective as much or maybe more so than any other piece of art and just because you like something doesn't mean you know what to do with it.  So I thought about what kinds of things one could do with a photographic print that would make it really shine or become a work of art. I decided that fine art prints are best when grouped together to set a theme. A room with a theme or grouping on the wall looks so pulled together and makes a statement.  It has something to say about the room's purpose and the people in it. So I have begun a journey across the walls of my house. I've decided to use my photography to set the tone and give my rooms personality.
I started with the Princess Room and look what happened.
I used a print from the the belly shoot in the center and then added Like a Whisper and Sugar Baby, two Etsy prints  from the studio featuring a precious little pink and white layette. The matching white frames pulled all the images together and made it look kind of chic and solidified the whole baby girl theme. You may have noticed that the artwork balancing in the candelabra looks familiar. It is a digital art print from the wonderful Miss Vanessa of A fanciful Twist. Yes, this print of Miss thing looks wonderful in the Princess Room.  It's  in keeping with the pink girlie look but adds a little whimsy and I love whimsy.
The perfect match.
Displaying these prints in a wide border frame allowed me to fore go the cost of a mat and downsize the frames for another cost savings. Yahoo, I'm thrifty!
I mentioned that I liked whimsy. Well get a load of the whimsy I shot yesterday while doing a little business in the country. I love it and wish I had a companion photo or two to pair with it. It wouldn't really go in my house but it would definitely add a bit of whimsical charm- don't ya think.
"Pardon…  but do I have something between my teeth?"
I thought this cow was being friendly but I later learned that she has a really baaad attitude and was just being sassy- I like sassy!
I hope that was a four leaf clover she ate because I heard it said that if she doesn't shape up her destiny lies in a steak burger. Ahhhh, poor sassy!
Sassy cow may make her way into my Etsy shop. I haven't decided quite yet but I think she's would fit right in with the  eclectic collection of Studio Pink.
Have a sassy Tuesdays!
xo-jj
June 23, 2009 Posted by javajune | me, photography | baby, country, cow, decorating, etsy, girl, home decor, inspiration, photography, sassy, whimsical | 5 Comments
Searching for the perfect items to feather my nest. This calls for a road trip; one of the best kind. The is the sort of trip where you let intuition be your guide and take you to that perfect place. A place that's not too generic but down to earth and rich with things that were once loved in another life. Art with a purpose and gadgets with a past. Can there be such a place? I believe there can. It is due north and then a hard turn to the west. It will lead me past small towns and wide open pastures.  Just when I think I can travel no more, the road will end at my true north and lead me to a place where decorated dreams come true and fantastic treasures await.
Yes, Yes, oh yes, a treasure hunt of the best kind. This hunt will take just the right light and a sensible pair of shoes. I will go with an open mind and without a plan. The right item will call my name as it stands out among the crowd.
Strange music will fill my ears as the message becomes clear. Perfect is not a person or place but a feeling that comes from within.
A true north that can't be seen. Although my trunk remains empty and my pocketbook poor, I am filled with inspiration and images to keep. The perfect look of a cozy nest is captured by the lens and tucked away for just the right time and space.
I never venture very far without the comfort of knowing that at any time I can whip out my camera and make a memory last forever. My dreams are endless but- no matter- someday I will capture them all, until then this girl and her camera are off on another road trip.
Every once in a while I feel that wanderlust creep in; this is a feeling that won't be ignored. I am compelled to obey as I travel astray. 
The truth is this:  today my travel is limited to cyberspace. These images were taken on a junk trip last spring but I have that itch to go again. Soon, very soon.
Most of the items I saw were beyond my means. If I had deep pockets………well, then I'd need a bigger house. I did manage to pick up a few things. The first image above, is an angel statue that I placed under a cloche, along with a few treasures from the sea I've collected over the years. Speaking of the sea, it's getting close to that time of year again. My bags are almost packed.
 Flip-flop fever is beginning to set in and I can hardly wait. This winter has been way too long for everyone!!! Don't ya think?
Have a wonderful Thursday. Take a trip, even if it is only in your mind, sometimes those are the best kind, anyway 😉
jj
March 26, 2009 Posted by javajune | me, rants | beach, decorating, intuition, photography, road trip, travel, true north | 5 Comments
My Diary
 I'm Java June or Junie as my friends call me.  I'm just a hopeless romantic with a master's degree in all things  dreamy. I could be described as a mid-western girl-next-door with a case of wander lust.  My curiosity for all things that cannot be explained sometimes gets me in some unusual predicaments. Come dream with me between the pages of my diary.
  This diary reveals a curious soul who can't stop looking  for little sprinkles of magic through the lens of her camera.
 You can have a peek at my photography in the Studio 
Or follow me on Twitter . Yes, by all means send me a tweet or two.
 To visit my Etsy shop click on the image below.
It's time for a little madness and a spot of tea.
Join the fun and fantasy by clicking on the link above. 
 Click on the photo below for a peek at my  flickr photo stream-it's full of a little fun and a lot of crazy.
I think I may have found my bliss and a new career.
Stella & Dot  has a strong celebrity audience.  Designed by Celebrity Jewelry Stylists and inspired by vivid colors, rich cultures and strong women around the world.  Their boutique style pieces are featured in top magazines regularly as the Editor's top pick, such as O magazine to Redbook and many, many more.  You'll love their style and the price.
Click on the image above to join me and hundreds of bloggers from around the world for a carpet ride of the magical kind.